Online home valuations are available everywhere, but are they accurate? Learn the differences between the various home valuation platforms and what the real value they bring is.
Are Zestimates accurate?
Zillow allows users to input data on their home and factors in bedroom count, square footage, year built, and local market trends.  Over the years the system has improved, but Zillow acknowledges their platform is really meant to be a starting point for a dialogue.  Zillow states:
"It is not an appraisal and can't be used in place of an appraisal."  In fact, Zestimates median error for off-market homes in Chicago is 7.3%.  With a median sale price for Chicago at $335,000, that's an error swing of over $20K for 50% of the homes!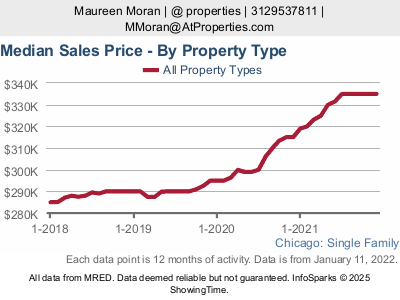 What about Realtor.com?
Realtor.com uses the data from 3 different sources to establish a value range. Realtor.com's page on home value estimates states:
"An automated valuation model (AVM) is a computer-driven mathematical model that uses basic property characteristics, local market information, and price trends to produce a home value estimate….Our high-quality home valuation estimates are sourced directly from multiple independent AVM providers and are used and trusted by the lending industry."
Is Redfin right?
Even though Redfin is a real estate brokerage with access to MLS data, they even say:
"Like other estimates, this is not a formal appraisal or substitute for the in-person expertise of a real estate agent or professional appraiser."
The truth is each of these websites has a disclaimer that their valuations should only be used as a starting point and should be followed up with a CMA by a licensed Realtor or an appraisal by a licensed appraiser.
None of these data aggregator websites are enabled to account for updates made to a home, access to local schools, amenities, conveniences, or proximity to transportation.
A Realtor with specific information about your property can provide a detailed analysis that includes the macro and the micro-market and give context to the market pace and conditions.
My 3 step process for working with someone selling their home in Chicago starts with a call when it's convenient to gather information about your home, followed by a walk through your home and then I prepare a detailed comparative market analysis and comprehensive strategy for marketing and pricing your home.
If you're considering selling, or just want an idea of where your home's present value is, I'm here to help.  Send me a message and I'm happy to answer any questions.