A city of neighborhoods.
Just south of the Lincoln Park between the Gold Coast on north of River North lies Old Town and immediate to the west is the Clybourn Corridor.
Chicago Old Town and Clybourn Corridor History
Old Town's original neighborhood association Old Town Triangle got its name from the annual Art Fair that was hosted there. Many of the cottages and buildings pre-date the fire and it was home to a vibrant hippie arts culture in the 1960's. The Old Town Art Fair continues today as one of the country's largest.
Chicago Old Town to Clybourn Corridor Restaurants, Shopping and Attractions
This is the shopping hub for the Near Northside with major retailers like the Apple Store, Crate & Barrel and the original Goose Island Brewery near North & Clybourn Avenue at Halsted with some locally-owned restaurants and shops like the House of Glunz and Tratorria Gianni and the award-winning Steppenwolf Theater. The area is a mix of historic and charming row houses & single-family homes, alongside newer build mid-high rises.
The neighborhood "boundary lines" have become blurred over the years which can make it confusing in a city of neighborhoods. "Old Town" was originally the triangle of Sedgwick-North Avenue-Lincoln Avenue which isn't even really a triangle. Many maps today have Old Town going as far north as Armitage and south to Division, west to Clybourn which is similar to how we've broken it down in our mapping…we just didn't go as far north as Armitage. Confused? Email us😉
The average drive time to the loop is 20 minutes and 30-45 minutes to O'Hare or Midway.
Available Homes in Old Town and Clybourn Corridor
Home Value Trends inOld Town to Clybourn Corridor, Chicago
Real-Time Interactive Median Sale Price 3 yr Trend
Single Family Homes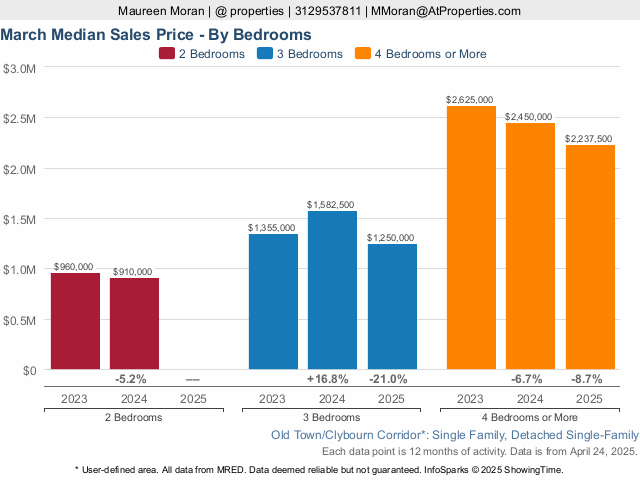 Condominiums and Townhomes
There are so many ways to celebrate the holidays in Chicago! We're breaking it down here, and we're adding to this list every week. See holiday lights, meet with Santa, holiday songs, and holiday shows and fun runs from Lincoln Park and Lakeview to West Loop. We've got activities to do with the family, with…